Boss Shepherd's debut with pie doughnuts and fried chicken (menu)
---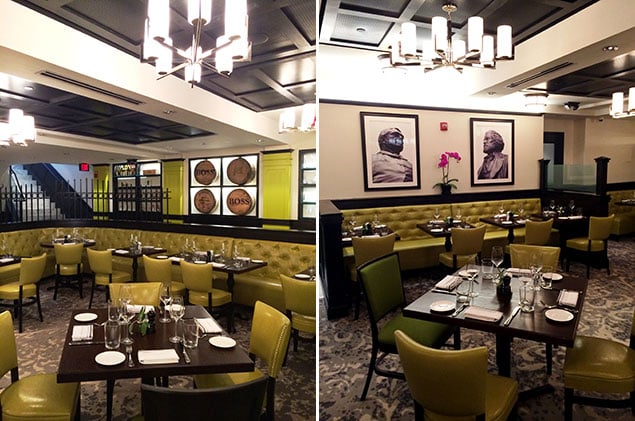 Photographs courtesy of Boss Shepherd's.
More fried chicken for all: Boss Shepherd's, the new Southern Washington spot, debuts Monday. The seasonal American restaurant of the founder of J. Paul Paul Cohn opens for lunch and dinner next to the Warner Theatre.
Chief Jeremy Waybrightformerly of Alexandria Union Street Public Houseserves a menu which mixes classic and refined dishes from the South. Think Parker House rolls slathered in sweet cream butter, corn succotash roast pork, pot pie "doughnuts" with sage sausage sauce, and fried chicken with smoked egg yolk, radishes poached in butter and biscuits. The lunch crowd can dip into a variety of sandwiches and burgers, including pastrami salmon with dill cream or local mushrooms on a pretzel roll with Mornay sauce. Waybright has already started sourcing ingredients from a number of farms in the Chesapeake watershed.
No Southern-inspired restaurant would be complete without whisky. Dark liquor lovers will find two five-gallon barrels from the A. Smith Bowman Reserve behind the bar, as well as local spirits and beers and 35 wines by the glass. If you're popping in for a drink on a first date, here's your icebreaker/fun fact: the restaurant is named after Alexander "Boss" Shepherd (aka the father of Modern Washington), a powerful town boss who revitalized the district after the Civil War.
boss shepherd. 1299 Pennsylvania Avenue, NW; 202-347-2677. Open at 11 a.m. for lunch and dinner Monday through Friday. Open at 4 a.m. on Saturday. Close on Sunday.
Find Anna Spiegel on Twitter at @annaspiegs.