Malaysia's first fast food chain had a prince as its burger chef. The sultan was not happy.
---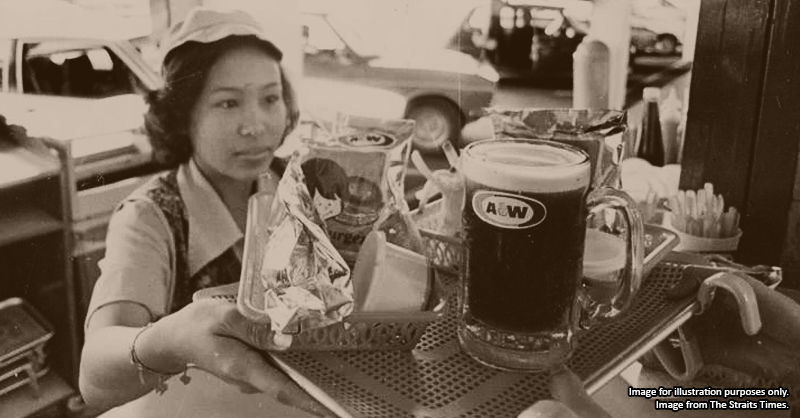 Hey hey, people. Which fast food chain do you think was the first to spread its greasy wings in Malaysia? No, it's not Mekdi. It's not Kepci. This is absolutely not White Castle, if any of you even remember its square beef patties. Drum roll please.
It's A&W.
Chances are anyone who grew up in the 80s and 90s would have tears in their eyes swallowing a Coney Dog or downing a glass of root beer, but as many fans as A&W, few may know be how the channel was opened in malaysia in the first place. As a fan of the franchise, this writer is happy to say he learned about this story through a letter written by an acquaintance of Al and Geri Lieboff, the couple who brought A&W here from the United States. It all started when…
Al Lieboff got angry at the quality of ice cream in Bangkok
Just to be clear, Al and Geri Lieboff weren't the real founders of A&W – Roy Allen and Frank Wright were the ones who started it all in California, USA. Al and Geri were just an average retired couple who traveled a lot. Incidentally, Al was a super nerd about ice cream, and her passion for confectionery was so intense that she "had taken all the pleasure out of Geri's travels in Asia". Apparently, he was constantly telling his wife, Geri, what he thought of the local ice cream wherever they went.
In the early 1960s, Al and Geri were on a trip to Bangkok, and when Al tasted the ice cream there, he said:
"They call it ice cream!?? Why could I…" – An old American man to his annoyed wife
It was the scoop that cracked the cone. Geri couldn't take it anymore and jokingly told her husband to open an ice cream restaurant here if he was so unhappy with the level of local ice cream. Eventually, the jokes turned into something a little more serious, and they decided "YOLO, we're gonna do it." Of all the restaurants they could have chosen, they chose A&W because they were seduced by the Las Vegas outlet they had been to before, and A&W was famous for their ice cream. But why Malaysia?
They chose Kuala Lumpur because they were impressed by the city
Yeah, it was as simple as that. There was no mention of what exactly impressed them, so let's assume they liked our time and how friendly the locals were. Regardless, the couple inquired with one of the Malaysian senators at the time, and the senator gave them "warm encouragement" regarding their plans to open an A&W in Kuala Lumpur. Same Tunku Abdul Rahman would have thought it was a fantastic idea.
At the time, A&W charged people who wanted to buy their franchise rights based on the number of teenagers in the country where the new channel was to be opened. The thing is, A&W had no idea how many teenagers there were in Singapore and Malaysia (which they called "the jungle") in the early 1960s, so the Lieboffs got the franchise rights on the cheap.
Cool, it's all good from there, right? WRONG. For a, Kuala Lumpur was a booming city, and the zoning laws hadn't really been solidified yet.. It was also difficult to find a suitable location that wasn't already being developed. After dealing with the bureaucracy, they found what was to be the site of the first A&W in Malaysia – the land that now faces the Amcorp Mall.
Then there was the hiring of staff.
They thought it would be impossible to hire Malay women
Hiring men wouldn't be a problem, but Al and Geri's friends told the couple it would be impossible to have Malaysian ladies who would be willing to put on the A&W uniformbecause:
"There's the stigma of the 'cabaret girl', and no good Malay girl would consent to wear the Western-style uniform…" – Al and Geri's Stupid Friends at Al and Geri
Anyway, they placed an ad in the local newspapers with the intention of hiring waiters and waitresses for their restaurant. The next day, THOUSANDS of guys showed up looking for a job at the fanciest fast food joint in town, and over the next three days, ONE HUNDRED AND FIFTY ladies came knocking for the position of waitress. Apparently, three of the girls were accompanied by their mother for the interview.
Boy, were Al and Geri's friends wrong that they couldn't hire women. So yeah, with all that settled, A&W opened in 1963.
Eighteen boys and eleven girls were chosen, and they would all start their training periods with the salary of 100 Malaysian dollars (about 600 RM today). They had to work seven and a half hours a day and they got A&W for free for lunch. The boys received higher salaries at the end of their training periods, while the salaries of the waitresses remained the same. Before shouting "DIRTY PATRIACY!", the ladies would keep ALL the tips they received. This, it was said, resulted in "the nicest and most efficient" waitresses in town.
The couple also did something unheard of at the time: helping out at the restaurant. Whenever things got too busy, the literal owners of the restaurant took orders at the counter and helped with other tasks.
But by far our favorite part of the story was how a "the young Malay prince" worked as a pinball burger for the couple – we don't know why, but he applied to be a cook there for fun, and quickly rose through the ranks to become the sous chef there, so to speak. His father was understandably furious, and he threatened to cut prince's monthly allowance by M$300. He wasn't going to let that dash his dream of becoming the precursor to SpongeBob SquarePants, and he kept flipping burgers at this A&W…even though we don't really know for how long.
Al and Geri were to open 22 A&W outlets in 5 years
Although the first operation was called a "success", Al and Geri have not yet had the right to rest on their laurels. The contract they had with A&W stated that they must open 22 new points of sale within 5 yearsand this is in addition to the plans of a drive-thru lane plus mini golf for first outlet. Drive-thru was definitely a thing, and one of our readers, Ignatius Joseph, remembers the golf course even though he said few people used it. A bit unfortunate.
A&W has come a long way since 1963. Although they've had a recent resurgence with more outlets opening with plans to open eight outlets in East Malaysia by the end of 2023, the historic fast food chain has had its share of ups and downs. You might recall they were somewhat forced to change the names of their signature Coney Dogs to Chicken/Beef Coney, and their iconic root beer to RB in 2012. There was also the time when the Taman Jaya A&W Was about to close several times, yet here we are.
To wrap up this article, this author would like to state that A&W's fried chicken is right on top alongside Mekdi's ayam goreng. If you want to send him hate, just paste it in the comments.