Will Burger King become the first major fast food chain to ditch meat?
---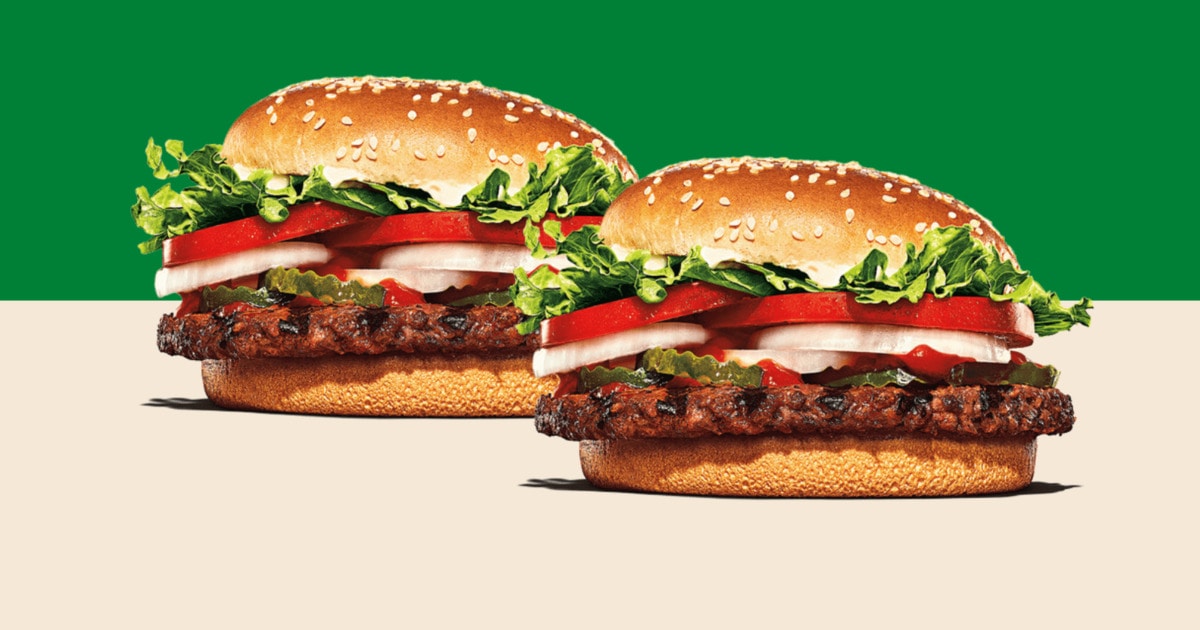 It seems like every week we hear news of another Burger King fast food chain location being meatless as part of a limited time promotion or as part of a meatless menu expansion. In some lucky parts of the world, the chain has even opened all-vegan venues. Is Burger King hinting that it will soon completely replace animal meat?
In recent years, the chain has shown growing confidence that plant-based meat is rapidly becoming the new normal and shares its vision for what its menus might look like in the future. To date, Burger King has introduced plant-based burgers in 70 countries with the ultimate goal of bringing plant-based options to its restaurants around the world. In the UK, Burger King has also pledged to offer at least 50% plant-based menus by 2030 as part of its efforts to reduce carbon emissions. This transition will involve moving away from its reliance on animal-based beef and chicken in favor of plant-based alternatives, which in turn will lead to an increased focus on vegan versions of classics such as Whoppers and Nuggets.
Burger King's international marketing manager Sabrina Ferretti told VegNews that the chain is actively working to become a leader in plant-based fast food. "Burger King is expanding its plant-based menus in different countries to provide tasty alternatives for anyone who wants an animal meat substitute without sacrificing the unmatched taste of BK," says Ferretti. "Our ultimate goal is to position Burger King as the leader and benchmark for best-tasting, plant-based foods in the fast food industry."
Burger King
Burger King's Meatless Mission
The chain's adoption of plant-based fast food offerings began in 2019 when Burger King first introduced the Impossible Whopper in select locations in the United States, becoming one of the first national chains fast food company to add Impossible Burgers to its menu. For this deal, the Impossible Foods Plant-Based Patty is stacked with all the classic Whopper toppings, including sliced ​​tomatoes, lettuce, mayonnaise, ketchup, pickles and sliced ​​onions, and can be entirely plant-based by not asking for mayonnaise. The Impossible Whopper became an instant hit for the company in regional testing, and it wasn't long before the meatless option was rolled out to its more than 7,000 locations nationwide.
Ironically, the launch of the Impossible Whopper took place on April Fool's Day. "You can think of it as a meta April Fool's joke in the sense that people will get a burger that they believe is actually made from animals and be told it's made from plants," he said. Impossible Foods founder Patrick Brown told CNET in 2019. "They'll think it's an April Fool's joke, and it's not."
Last year, Burger King expanded its partnership with Impossible Foods by adding the brand's vegan chicken nuggets to the menu in three test markets, again becoming the first major chain to offer the new nuggets at the time, which were available in an eight-piece order with a choice of dip at Burger King locations in Des Moines, IA, Boston, MA and Miami, FL. And just last week, a plant-based version of his fan-favorite original chicken sandwich — made with Impossible Foods' new plant-based Impossible Chicken Patties — appeared on the menu in Cincinnati, OH for a while. limited.
Burger King
In another unique move, Burger King recently added to its Impossible lineup with the launch of two more menu items in the United States: the Impossible King and the Southwest Bacon Impossible Whopper. While both items feature the Impossible Foods plant-based patty, they also include animal products in the form of dairy cheese on the Impossible King and bacon and cheese on the Whopper to target consumers who are hesitant. more to dive into a plant entirely. based on burgers and simply try to limit their meat consumption.
"When we say to our customers, 'As you wish', we really mean it. We want to give our customers the power to choose. Offering them the ability to enjoy our signature flame-grilled menu on their terms goes beyond cutting out pickles or mayonnaise," says Ferretti. "Whether they choose plant-based alternatives like Impossible Whopper or Stacker Sauce on a Whopper Jr., we're here to serve our flame-grilled flavor, with choice."
Burger King is going meatless worldwide
Beyond the United States, Burger King has introduced meatless offerings in one form or another around the world, including through its partnership with The Vegetarian Butcher, a Unilever-owned company that supplies its plant-based meats nationwide. 'Europe. Recently, the chain's locations in Germany began offering a meatless option for every item on its menu, and in doing so, the chain in that country has doubled its line of plant-based products. Similarly in Austria, the chain has launched a campaign that offers customers the choice between "regular or meat-based" when ordering burgers in a bid to normalize plant-based eating.
Burger King
Burger King's approach in Austria is reminiscent of its 2019 campaign in Sweden. There, Burger King promoted its plant-based options – the Rebel Whopper and the Rebel Chicken King – with the innovative "50/50 menu" by challenging customers to order blind. As part of this challenge, customers would receive a plant-based or meat-based version of one of the sandwiches and likely wouldn't know the difference, which would build Burger King's confidence in its plant-based offerings. And to further encourage customers to swap their beef burger for a plant-based option, last week the chain gave away 10,000 plant-based Whoppers in the UK for National Burger Day.
"We've learned that taking a holistic approach is key: every touchpoint is relevant to effectively communicating the new proposition," says Ferretti. "Restaurants are a key part of three of our goals: to raise awareness of Burger King's menu and initiatives, to educate customers and to break down barriers. The most successful companies offer a 360-degree plant experience that is unique and relevant to these goals.
Will Burger King go vegan?
While Burger King isn't the only major fast-food chain to offer plant-based versions of its most popular items and more, it's ahead of the curve when it comes to meatless location testing. or even entirely vegan. Last summer, Burger King transformed a location in Cologne, Germany into a totally meatless outpost to explore how customers would react to a meatless menu.
The chain has also experimented with similar concepts in Spain, Chile, Switzerland and London. For the latter, Burger King transformed its flagship Leicester Square location into an all-vegan outpost for a month in March. The menu featured 25 plant-based dishes that included its classic Plant-Based Whoppers and Vegan Chicken Nuggets, but also more adventurous options such as the Japanese-inspired Vegan Katsu Royale and Plant-Based Katsu Chilli Whopper. .
Burger King
Following these successful pop-ups, last week Burger King kicked off the campaign in Central America with the opening of an all-vegetarian pop-up in Costa Rica. The pop-up location is in San Jose, which is the brand's second-largest Latin American market for plant-based Whoppers, and fourth in the world in June by sales per unit. The San Jose location's menu features offerings such as the Veggie Whopper, Veggie Nuggets, and King de Pollo Veggie.
Ferretti tells VegNews that the pursuit of meatless locations is ultimately driven by consumer demand: "Our recent plant-based pop-ups opened without a specified duration, and we're keeping them open as long as they're relevant. for our customers," says Ferretti. "Customers and their demand will ultimately determine the longevity of each restaurant and its plant-based offerings."
As Burger King continues its efforts to innovate its menus and focus on selling more plant-based options, if the demand is there, we could see Burger King's meatless locations become the new normal.
For the latest vegan news, read:
New York Mayor Eric Adams Welcomes Slutty Vegan to the City
Billie Eilish and Maggie Baird will receive an environmental award for their vegan work
Reducing meat consumption by 80% means Canada could reach net zero
Want delicious vegan recipes delivered to your inbox? We have you!
REGISTER HERE
Want delicious vegan recipes delivered to your inbox? We have you!
REGISTER HERE